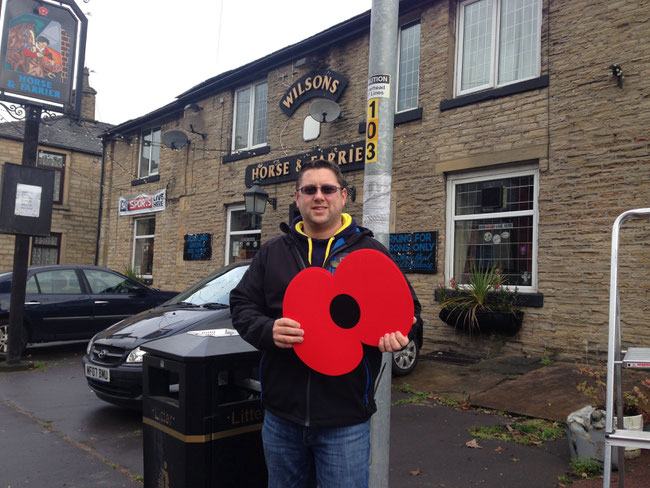 Walkers at the Remembrance Day service in Norden will do so this year on a route lined with poppies.  Norden Councillor, Peter Winkler, was approached by a resident who had seen a similar display and he contacted the Royal British Legion to find out more.  The poppies which are called 'event poppies' are designed for display on building, lamp posts etc. and are being used around the country.
Although they are in huge demand Peter managed to purchase some of the poppies and has used them to mark the route which uniformed groups and other walkers will use between St. Paul's Church and the Norden Memorial Gardens on Edenfield Road.
Councillor Winkler said: "We always have a large turnout for the Remembrance Sunday service at the Memorial Gardens in Norden.  When I was approached with this suggestion I thought it was a great idea, and one which brings the poppies out from the War Memorial and right through the village.  The response from local people and from people in other areas around Rochdale, Pennines, Heywood and Middleton who have seen them has been fantastic, so much so that I have asked that the idea be rolled out across all four Townships in the Borough, I would love to see a full adoption for 2018."
Anyone who would like to join the Norden Memorial Service on Sunday 12th November can do so from 9:30am at St. Paul's Church, walking from outside the church from 10:30am and meeting at the Norden Memorial Gardens on Edenfield Road for 10:45am where a service and two minutes silence will be observed.