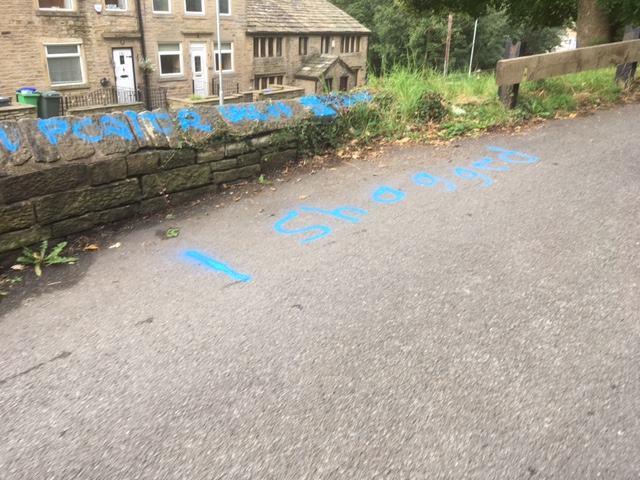 Norden Councillors are calling for help and information from the public to help stop a growing problem with graffiti around the village.  The call comes after a recent spate of instances where offenders have sprayed offensive and comments, images and tags throughout the length of the village.
Councillor Peter Winkler said: "Graffiti has become a real problem over the summer and it seems to be the same paint that is being used each time.  Graffiti has had to be cleaned from roads and pavements, walls, benches, bus shelters, phone boxes and even trees."
The latest vandalism took place on the evening of 31st October, when blue paint was sprayed over drystone walling, footpaths and the highway along sections of Heap Road and Edenfield Road.  Previous instances have had to be dealt with on Bagslate Moor Road, Caldershaw Road, and around Woodyards Garage, Taylor Park and the old bus terminus.
Councillor Mike Holly said: "The need to repeatedly remove graffiti is a significant cost for the Council and it is just something that we needn't be spending council tax payers' money on.  These vandals need to be identified and held to account."
Rochdale Council take graffiti seriously; it is illegal and includes words or drawings that are written, painted, sprayed or scratched on the surface of any property.  The Council can serve graffiti removal notices on any privately owned buildings or street furniture. Any offenders identified who have carried out any defacement will either be prosecuted through the courts or issued with a fixed penalty notice of £75 for each area of defacement.
Anyone with any information about the graffiti is asked to pass details to the Police using their 101 number.