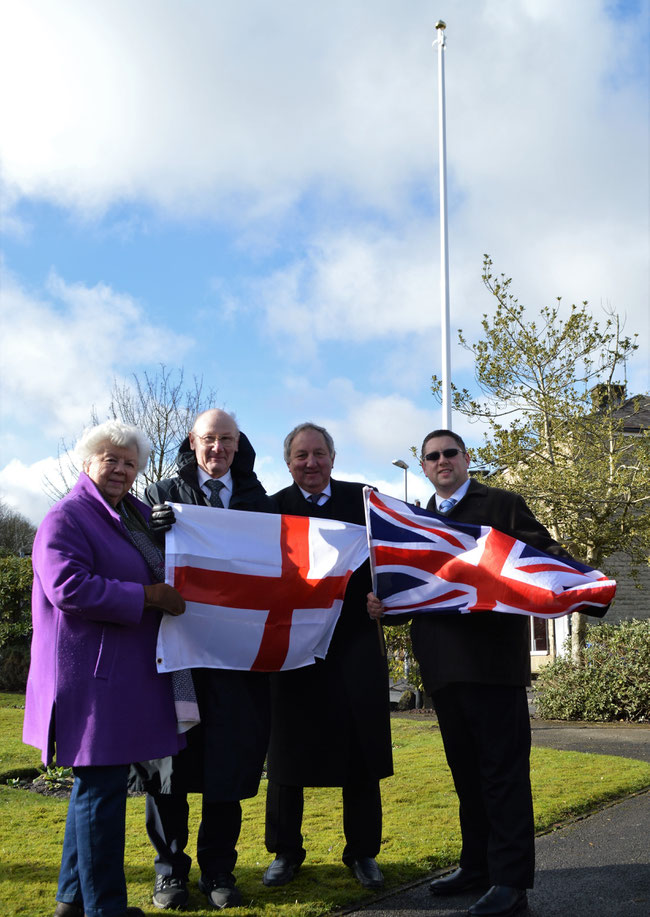 Residents may have noticed an exciting new addition at the Norden memorial gardens as they have passed through the village recently. The site is now home to a flagpole which has been installed as part of improvement works to the gardens.
Last year local Councillor Peter Winkler, with the assistance of the Rochdale Township Office, made an application to have enhancements and restorative works carried out at the memorial.  The flagpole is just one of the items on the works programme which will also include restoration of the fencing, professional cleaning of the grade two listed memorial and resetting of the of the stone paving around the monument.  These works follow on from previously installed benches and extensive new planting which has already been carried out.
Councillor Winkler said: "Norden's Memorial gardens are an important part of our village and are used by many people every year.  It is right that we should ensure that the gardens and the memorial are cared for as a mark of respect for what they represent.  I would like to thank Val White and Rachel Hudson from the Rochdale Township Office for their significant support in organising these works."
"Myself and Councillors Holly and Gartside have spoken to many residents and they are delighted at the addition to the village. Our memorial service is always well attended in Norden and in 2018, which is a special year, we will be able to make our remembrance even more significant."
Works have been funded following an application to the War Memorial Fund and will be carried out by the Rochdale Memorial Service.  The flagpole will fly the Union Flag but Councillor Winkler was keen to assure residents that a George Cross will be raised to celebrate St. Georges Day.