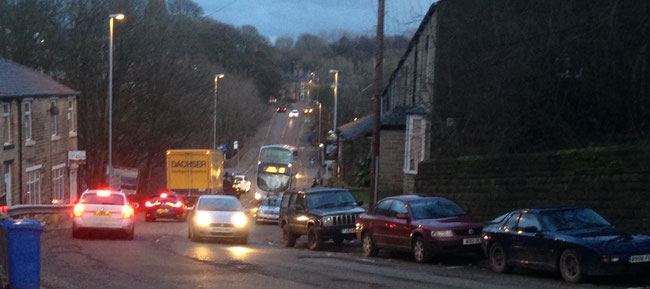 Attendees at this weeks Norden Area Forum have called for a traffic management plan, which has cost over £3000, to be scrapped.
The extensive plan, which could see changes to parking restrictions at key points in Norden village, has been proposed by Rochdale Council's Highways team in a bid to ease congestion and increase safety by preventing vehicles from parking at dangerous bends and junctions along Edenfield Road.  Plans have already been through an extended consultation process and are ready to be presented at next weeks Council Action and Resources meeting for approval.
Whilst the plans do include some additional restrictions such as yellow lines along Edenfield Road near the Bridge Inn, they also call for the removal of unused bus stops at the old Norden bus terminus, creating more legal parking spaces.
The plans were initially presented at the Norden Area Forum in April 2016 and following this were first advertised in January 2017.
More recently the plans were discussed at the Norden Area Forum in December 2017, when a representative of the Highways department attended the meeting to listen to residents views.  Following that meeting the report was delayed while matters which arose at the forum were considered.
Local Councillors have held a number of meetings with the highways team to discuss the plans and ensure that the views of residents, both in favor and against the plans, have been fully considered as part of the process.
Public comments about the scheme have been mixed but at last nights meeting which was attended by less than 20 members of the public, some of whom were not Norden residents, it was voted to request that the scheme be scrapped.
If the scheme is scrapped all money spent on it would be lost and the process would have to start again incurring additional costs.
The report will now go to Rochdale Council's next Action and Resources meeting on Tuesday 13th March where a decision will either have to be made or passed to Cabinet.
Public consultation on the plans are now closed but any member of the public wishing to attend the Action and Resources meeting may do so from 6:15pm on on Tuesday 13th March at the Council's offices at Number One Riverside.  Opportunities for the public to speak in support or objection at this meeting are at the discretion of the Chair.  Alternatively, comments and views can be submitted via your local Councillors.