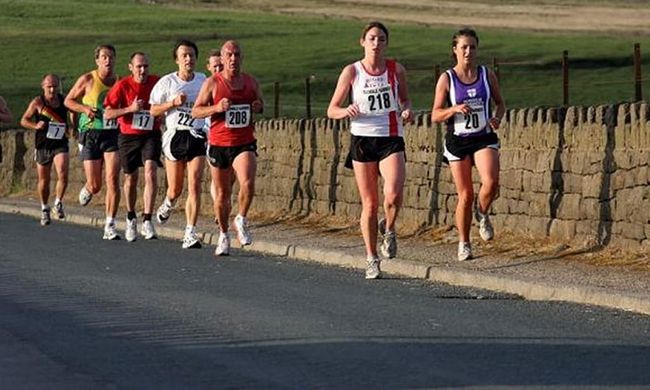 After an incredible event in 2017 Rochdale Harriers are set to return to Norden this year for their 24th annual three day race event on Friday 8th, Saturday 9th and Sunday 10th June 2018.
The event will see runners compete in three tough races in three days including:
Day 1:
Friday 8th June 2018, 7.30pm  (6 Mile Norden Road Race)
A breathtaking course (in every sense) with stunning views on the climb up Edenfield road and during the descent down Ashworth Valley Road.
Day 2:
Saturday 9th June 2018, 11.00am  (6 Mile Naden Valley Multi-Terrain Race)
An undulating, three lap course through Naden Valley, School Lane, across the stream and past the Three Owls Bird Sanctuary.
Day 3:
Sunday 10th June 2018, 11.00am  (6 Mile "Knowl Hill" Fell Race)
The most popular of the three due to the scenery, route and advertising in the FRA handbook – a Category BM Fell Race (1300′ total climbs) passing Higher Naden Reservoir, up to the top of Knowl Hill (1380′), down between the 4 reservoirs, back up then down past Dr. Dam lake to the finish.
Speaking recently Rochdale Harriers Club Chairman, Phil Roberts said that this was one of the most popular events which attracted three international runners last year, two of whom have already scheduled to take part again this year.
The club welcome spectators to come along to watch and cheer on the racers.  For more information about this and other news from Rochdale Harriers visit: www.rochdaleharriers.org.uk