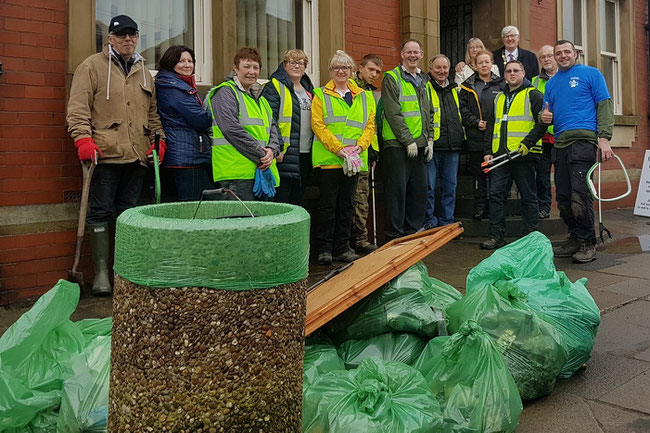 Residents, community groups, volunteers and Councillors combined forces in Norden today to take part in the Great British Spring Clean.  Today's event had been rearranged following the snow last weekend but still a group of almost 20 people turned out to lend a hand with the cleanup in areas including: Jubilee Park, Black Pits, Edenfield Road and Furbarn Road.
Starting at 10:00am the group made its way through the village collecting over a dozen sacks of litter, old picture frames and even (ironically) a broken litter picker.
After two hours of hard work the group met at the opposite end of the village where they were met by the Mayor and Mayoress of Rochdale who thanked the team for all their hard work, saying: "It is great to see that so many of you have come out to join in, there is a real community spirit in Norden.  It's just a shame that people don't just put the litter in the bins that are provided."
Volunteers were also treated to refreshments and bacon sandwiches at the Norden Old Library cafe.  Special thanks go to the local Co-op store for providing all the bacon and muffins free of charge to feed the workforce.
All the collected litter has now been placed at the Norden Old Library and will be collected and processed by the Council's Environmental Management team next week.