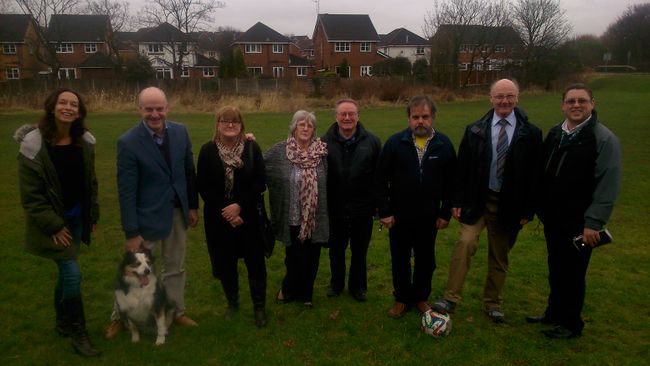 The story of Heritage Green takes another step forward today as residents and Local Councillors travel to meet with Cheshire East Council to see if a decision will be made as to the future of the site.
It is three years since the original attempt was made by Rochdale Council to sell the site for housing development, but following an emergency meeting called by Ward Councillors a residents group was formed to fight for the site to become a village green and be protected as a recreational space for future generations.
The application, if successful, would make this the first official village green in Rochdale and has therefore been met with a great deal of interest.  The legal process of creating a village green is a complex one and, owing to the fact that Rochdale Council are the current land owners and had applied to sell the land for development, the decision is to be determined by an independent local authority.
After many meetings and an incredible amount of complex application work by the 'Friends of Heritage Green' group, which has hundreds of supporters from the area, the application could finally be decided today.
Local Councillors will accompany residents as they travel to meet with Cheshire East Council today and speak in support of the village green application.  Councillor Mike Holly said: "We have opposed the plans to develop this land from the moment its sale was proposed. This is an important space for local people and it's sale was very nearly pushed though without public consultation as part of a large application including many other sites which were totally dissimilar.  From our first efforts to establish the Friends Group, we have supported local people at every stage of their campaign to keep this area as part of the Rochdale Green Corridor and free available for local families to use for recreation."