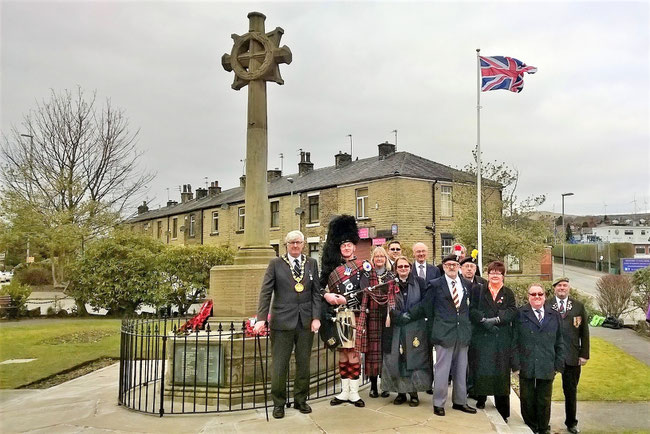 The Mayor and Mayoress of Rochdale joined Veterans, Councillors and local residents yesterday for an official event to mark the first flag raising in the Norden Memorial Gardens on Edenfield Road.
The event, which took place following the weekly Veterans breakfast at Rochdale Town Hall, was held to bless the flags, two union flags and one St. George's flag, which will be flown from newly installed flagpole.
The Mayor of Rochdale, Councillor Ian Duckworth said: "It is such a honour to be here to mark the raising of the first flag and to see that generations, young and old, have come to remember those that gave their lives in the ultimate sacrifice for our country and freedom."
The flags were then blessed by the Rev. Margaret Smith before a Union Flag was raised and wreaths were rededicated and laid at the memorial.
Concluding the ceremony Councillor Peter Winkler, who initiated the works, thanked attendees and those individuals from the Rochdale Township Office, the Armed Forces Service and Environmental Management who had helped to bring about the new installation and the refurbishments. Councillor Winkler said: "It has been a pleasure to have been involved in the restoration of our Memorial and gardens.  Every year we see many local people here to remember and in this very significant year it is going to make the remembrance service all the more special.  The works are a fitting tribute to the memory of those that this memorial represents."
The works were commissioned through the Rochdale Township Office. The flagpole was just one of the items on the works programme which has also included restoration of the fencing, professional cleaning of the grade two listed memorial and resetting of the of the stone paving around the monument.  These works follow on from previously installed benches and extensive new planting.  Works have been jointly funded by Local Councillors and the War Memorial Fund and have been professionally carried out by the Rochdale Memorial Service