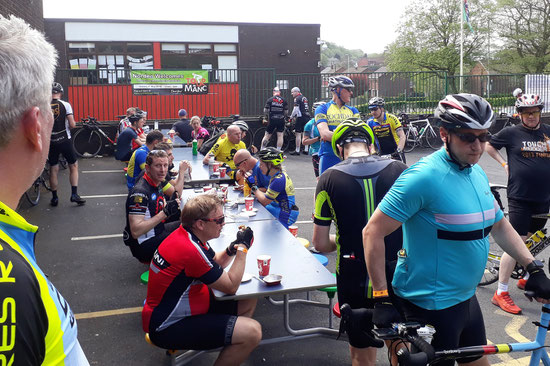 Hundreds of riders stopped of in Norden this weekend (Sunday 6th May) at the half way point of the incredible 'Tour de Manc' charity bike ride.
Norden was the third stop along the route, located 52 miles from the start and by the time riders reached the community school they were certainly in need of a stop and refuel, before heading back off through the village and climbing up Edenfield Road towards Owd Betts.
Although 700 riders pre-registered for the event it was understood that hundreds more had registered on the just before the event, resulting in around 1200 cyclists taking part in the challenge to raise money for a wide range of local and national charities.
After set off at 7:00am the first riders were reaching Norden at approximately 10:30am, having already covered an incredible 52 miles in and unbelievably quick time. More riders soon followed and over the course of five hours hundreds had been welcomed for drinks, gels, pies and maintenance stops.
Despite the uncharacteristically hot bank holiday weather riders were in high spirits and coped well with the temperatures.  Helped too by local residents who came out to cheer on riders as they passed through the village.
Local Councillor Peter Winkler who coordinated the stop with volunteers said "This is an incredible event and I am full of admiration to the people who have taken part. Today has raised a lot of money for many many good causes and, while I don't think I could have completed the 100 mile circuit, I am glad that I have been able to help in some small way.  Jo from the 'Tour de Manc' team was great and with help from Gail Reed and Paul Ellison, along with juniors Edward and Bonnie serving up the feedback from riders have been brilliant."
Following this years success and the growth of the challenge over the past three years, plans are already being put together for the 2019 event and organiser Tony Rubins has already said that he is keen to maintain Norden as a stop along the route.