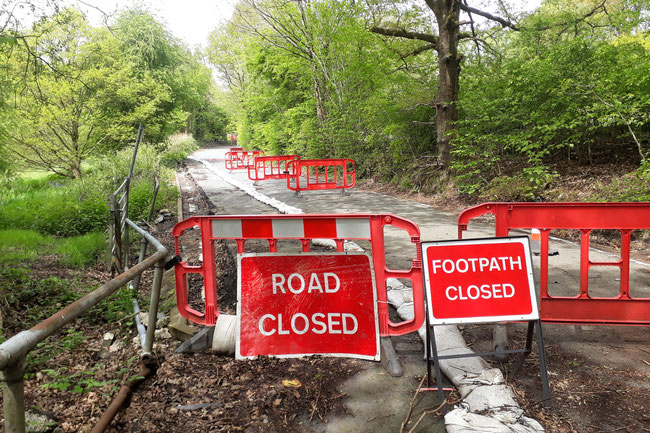 Work has today begun to rebuild a section of Ashworth Road which collapsed last year leaving the route close to all vehicular and foot traffic.
In a statement yesterday a spokesperson from Rochdale Council said "We can confirm that our contractor commenced work yesterday and the contract period is expected to be 23 weeks.  The work is of a complex nature and, as with all such ground works, the contract duration could change when the depth and condition of the founding bedrock is exposed and confirmed."
The projected cost of the works is currently £430,000; this has been funded from insurance reserves, which the council hold for instances such as this.  However, the fact that much of the groundwork will be underground means that this is an estimate and could rise further as geo-technical works progress.
The process will now be to secure the banking which has collapsed beside the road with sheet piling and anchors into the bedrock before rebuilding the road structure.
Local Councillor Peter Winkler said, "The finance team within Rochdale Council are very sensible with the borough's financial reserves and in cases like this you can really appreciate why.  This is an important route both for access to and through Ashworth.  The closure of this road has caused a lot of disruption to local residents and commuters and has put extra pressure on other already busy routes.  Although the time estimates seem high it is clear to see that this is no simple fix.  Our highways officers have wasted no time in dealing with the problem and doing the very technical work needed to restore the road.  I and our other Ward Councillors will be receiving regular progress updates and we will endeavour to ensure that the works are kept on track and completed as swiftly as possible."