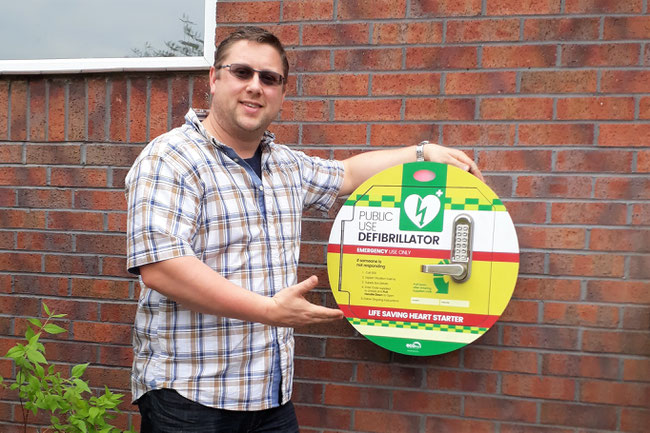 A new defibrillator, sometimes known as an Automated External Defibrillator (AED), has been installed at St. Vincent's Parish Hall on Caldershaw Road thanks to funding by local Councillors.
The new device is located on the outside wall of the parish centre so it is accessible to members of the public at any time of day or night using a special code that can be obtained from emergency services.  When calling 999 any member of the public can be directed to the locked unit and provided with the code to access the lifesaving equipment within.
When someone suffers a cardiac arrest, their heart stops pumping blood around their body and they will die within minutes without treatment. For every minute without defibrillation, a person's chance of survival decreases by around 10 percent.  However, a bystander giving immediate CPR and defibrillation can double a person's chances of survival in some cases.
The New unit has been installed by Rochdale Township thanks to funding from local Councillors and in conjunction with St. Vincent's Parish Hall who have agreed to become a home to the new unit and provide the power needed to keep it charged up and ready to save a life.
Local Councillor Peter Winkler said: "I am really pleased to have been able to fund this project as it offers a vital piece of lifesaving equipment to so many people in our community, hundreds of homes now have local access plus a community centre, a very well attended church and children at two primary schools.  It is such a simple piece of equipment to use and can now be saving someones life in minutes, even before a paramedic could be at the scene.  It could be the difference between life and death."
"Thanks of course to the Rochdale Township team for coordinating this, especially Rachel and Sharron who have been working on this for a number of months.  Also St. Vincent's, without whom we could not have located and powered the equipment.".
The new defibrillator now joins previously installed units including one at Norden Old Library and thousands more across the country to provide an essential lifesaving network.