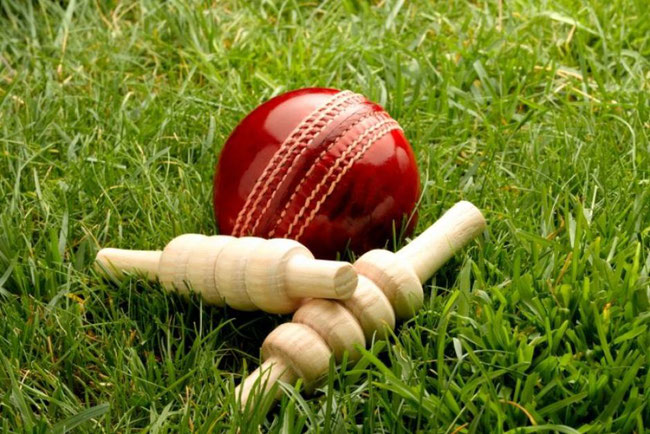 Norden had their biggest crowd of the season on Sunday, but most were only there for the televised England match.  Those who concentrated on the cricket saw a topsy-turvy match between Stags and Enfield which eventually ended in a tie.  Norden looked sure winners when they reduced the visitors to 70 for seven, but Enfield recovered to an all out 184.
The reply saw Stags tottering at 12 for four, but Dominic Humphreys, Dan Buckley and Greg Butterworth, aided by a late flurry from Jason Collin, meant  Norden needed two to win off the last ball of the 50 overs.
The  batsmen levelled the scores, but Butterworth could not get back for the winner, so it was nine points for each team (seven each for the tie, and two each for bowling out the opposition).
Enfield won the toss and decided to bat. They reached 29 with only one half chance having been offered, but Lee Crabtree then took a catch behind and Norden were on their way.  Visiting professional Pussegolla managed only four before going to a catch by Dominic Humphreys, and Adam Bracewell failed to score before slicing a shot into the hands of Jake Sandham.  Opener Greg Jones had punished the poorer deliveries and was on 52 out of 68 when he was trapped leg before by Dominic Humphreys whose impressive 10-over spell saw him take three for 18.  Cook failed to score, Wrigley managed two, Ali did likewise, and Enfield were 70 for seven.  It promised to be an early tea, but the remaining batsmen gave Enfield hope.  Barker scored 29 off 53 deliveries, Fergus Bailey hit 40 off 67, and Sam Cook was unbeaten on 27. It all added up to what had seemed a most unlikely target for Norden to chase.  Greg Butterworth bowled his maximum 15 overs and took three for 51, while Jake Sandham captured three for 67.
The reply started badly for Norden, very badly.  Some were not happy with decisions, but the facts were that Josh Tolley was leg before for a duck, Lee Crabtree was bowled for a duck, Harvey Fitton was caught behind for a duck, and Jake Sandham charged Pussegolla, missed, and was stumped for two.  It needed a bit of something special to turn the tide, and it came in a partnership between Dominic  Humphreys and Dan Buckley.  Humphreys was caught behind after grafting for 22 off 55 deliveries. That made it 51 for five, but the seeds of recovery had been sewn, and the next partnership between Buckley and Butterworth took the total up to 140.
Both batted brilliantly, but having scored 55 off 107 deliveries Buckley was given run out when it did look as though he had reached his ground.  Butterworth continued the fight, but lost the help of Hashum Malik who was leg before to Pussegolla and Steve Pimm who was leg before to Bailey.  These dismissals opened the way for Simon North to play his first innings of the season, and he scored 10 before offering a return catch to Pussegolla.  Nine men down and 19 needed for the win. Could Norden do it, egged on by the cheerleaders section of the ladies' cricket team.  Those cheerleaders went into overdrive as Jay Collin smacked two boundaries, and almost before you realised it had come down to a last ball shootout.
Butterworth was on strike facing Pussegolla. He went for the shortest boundary and dashed down the wicket. But he could not get back as the ball was whipped in to see him run out for 46.
So, no win for Norden who had lost their previous five games in all forms of the game, but it almost seemed like a win.
Enfield
L Wright c Crabtree b Buckley 4
G Jones lbw D Humphreys 52
P Pussegolla c D Humphreys b Butterworth 4
A Bracewell c Sandham b Butterworth 0
Y Ali c D Humphreys b Butterworth 2
J Cook c Crabtree b D Humphreys 0
J Wrigley b D Humphreys 2
L Barker c Tolley b Sandham 29
F Bailey c j Collin b Sandham 40
S Cook not out 27
F Basharat b Sandham 3
Extras 21
Total 184
Bowling: Sandham 12.4-2-67-3; D Buckley 6-0-40-1; G Butterworth 15-3-51-3; D Humphreys 10-5-18-3; J Collin 1-0-5-0.
Norden
J Tolley lbw Bailey 0
H Fitton c J Cook b Pussegolla 0
L Crabtree b Bailey 0
D Humphreys c J Cook b Wright 22
J Sandham st J Cook b Pussegolla  2
D Buckley run out 55
G Butterworth run out 46
H Malik lbw Pussegolla 6
S Pimm lbw Bailey 0
S North c and b Pussegolla 10
J Collin not out 12
Extras 31
Total 184
Bowling: Bailey 13-3-30-3; Pussegolla 15-2-54-4; Wright 12-2-41-1; S Cook 7-1-30-0; Ali 3-0-18-0.