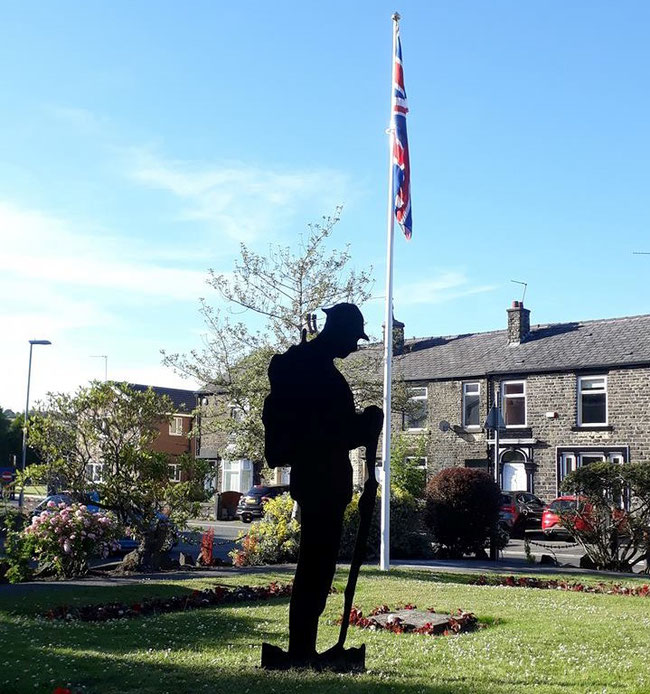 Norden's War Memorial Gardens have become home to a striking silhouette of a WW1 soldier this week.  The figure is one of many which will be appearing right across the borough to mark the 100 year anniversary of the end of the First World War.  Commemorations will continue until Remembrance Sunday when a full service will be held in the gardens.
Local residents have been commenting about the addition on social media saying:
"Very moving tribute this 100th year since the end of the first world war"
"Looking forward to seeing it"
"Fantastic"
Local Councillor, Peter Winkler, who has been the driving force behind an extensive programme of maintenance and improvements at the Norden Memorial Gardens said: "The Norden Soldier is a very striking and moving tribute to all those who have lost their lives in combat.  Norden's memorial gardens are a very important part of the village and every year we have a strong turn out for our remembrance service to remember those named from our village and beyond.  This year we have seen a full refurbishment programme plus the installation of a flag pole and now the lone soldier."
"This year's remembrance service will be more significant than ever, given the 100 year anniversary.  I have spoken to Officers at the Council to request a road closure around the memorial during the service so that it can be conducted with the utmost respect.  I will be making sure that our lamp post poppies return to the village too as these were another very poignant display."