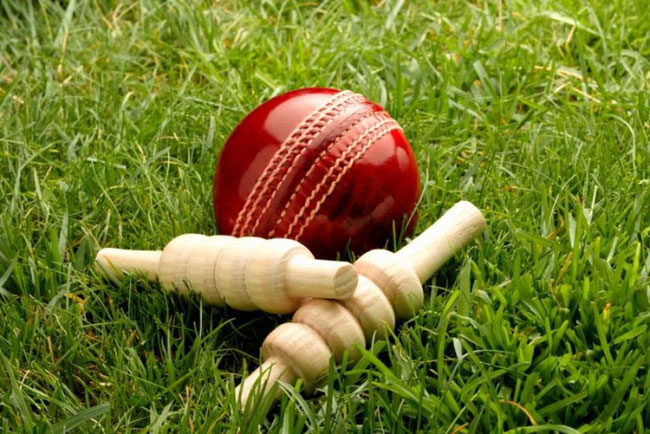 Norden picked up maximum points for the first time in four games when they defeated Bacup in a unique encounter at Stag Park on Saturday.
Unique because the game started an hour earlier than usual and stopped for two hours so people could watch the televised England match.
Bacup batted first and were going well at 114 for one, but once Simon Newbitt had been trapped leg before by Greg Butterworth the innings collapsed to an all out 156.
Newbitt apart only professional Ernest Kemm (30) reached doubl e figures, extras accounting for 34 of the other runs scored.
Hashum Malik recorded figures of six for 21 and was twice on a hat-trick in one over which saw him take four for six.
Greg Butterworth finished with three for 33. Jake Sandham took one for 28 in nine economic overs.
The reply saw Stags on 56 when Josh Tolley was caught for 28, but Harvey Fitton (60) and Dan Buckley (35) pushed the total up to 126 before both were out.
Dominic Humphreys (20) and Jake Sandham (15 not out) rounded it off.
Bacup
T Farragher c C Humphreys b Malik 9
S Newbitt lbw Butterworth 61
E Kemm c D Humphreys b Malik 30
M Schofield c Harrison b Malik 7
C Gansler c Crabtree b Sandham 5
B Lord c D Humphreys b Malik 0
M Collinge lbw Malik 0
D Boardman lbw Malik 0
S Lord b Butterworth 6
L Naylor st Crabtree b Butterworth 0
S Benson not out 4
Extras 34
Total 156
Bowling: Sandham 9-3-18-1; C Humphreys 7-3-19-0; Malik 7-12-21-6; D Humphreys 0.1-0-4-0; Fitton 4-0-23-0; Butterworth 10-2-33-3; Tolley 5-0-23-0.
Norden
J Tolley c Boardman b Kemm 28
H Fitton st Gansler b Benson 60
D Buckley c B Lord b Benson 35
D Humphreys lbw Benson 20
J Sandham not out 25
J Harrison lbw Kemm 0
S Pimm not out 0
Extras 3
Total (for 5 wkts) 161
Bowling: S Lord 6-0-25-0; Naylor 6-1-18-0; B Lord 7-1-25-0; Kemm 14-4-33-2; Benson 7.4-0-60-3