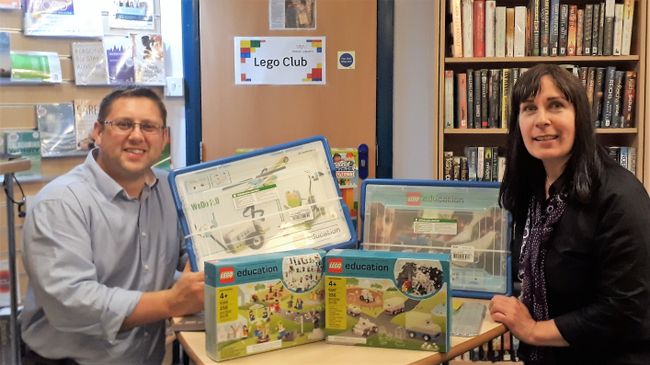 Children in Norden will be excited to hear about a new Lego Club which will be starting at Norden Library on Shawfield Lane this Saturday (21st July 2018), just in time for the summer holidays.
The Club, which is is being set up in time for the summer holidays is a joint project between local Councillor Peter Winkler and Librarian, Angela Butcher at the Norden Library and aims to be a fun, free and inclusive session for local children of all ages.
Peter approached the library earlier this year to discuss the idea after having seem similar clubs in other areas, Angela had already been thinking about a club but was unsure about funding.  After a discussion about what was needed Angela agreed to host the club at the library and Councillor Winkler offered to buy all the Lego that the club needed.
A number of different Lego sets have been purchased including Lego for boys and girls, Duplo bricks for younger builders and more technical sets with lights , motors and programmable functions for older children.
Angela said: "I had been looking at idea for a while so when Councillor Winkler approached me with the same idea and the funds to make it happen I was really pleased to accept.  Lego clubs are a great activity for children of all ages and a brilliant way to get them into the library.  Our library provides a very important local service and the more ways we can use it the better.  Libraries are not the quiet reading rooms of days gone by, we are a real community hub and the Lego club will be a brilliant addition to our current list of activities."
The new Norden Lego club will be on Saturday mornings from 10:00 to 12:00 and will be a free drop-in session open to local children of all ages.  Please contact Norden library on 01706 926 736 for more information.