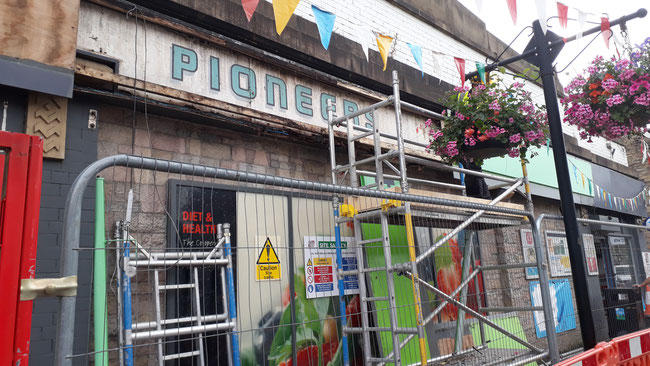 Norden's Co-op, which is one of the oldest in the retailers estate, closed temporarily yesterday as builders moved into the store to undertake major refurbishment works.
The store, which was still sporting the dated green branding is the latest to undergo extensive works as the co-op moves back to a more traditional blue colour branding.  Works will include new flooring, exterior signage and a complete interior refit of the Edenfield Road store which staff say will offer a massive improvement to the shopper experience.
Today (Monday 13th August 2018) the green signage was removed to revel the old-fashioned hand painted signs behind the modern fascia, providing a fleeting gimps into the past for local passers by.
Speaking about the refurbishment local Councillors said "It is great to see that our local store is included in the Co-ops refurbishment plans.  As Rochdale is the birthplace of the Co-op it is good to see that the retailer is still thriving in our community and investing in the future of our village."  
Speaking outside the store local shoppers said that although the closure would be inconvenient for a few days they were pleased that the shop was getting some TLC.