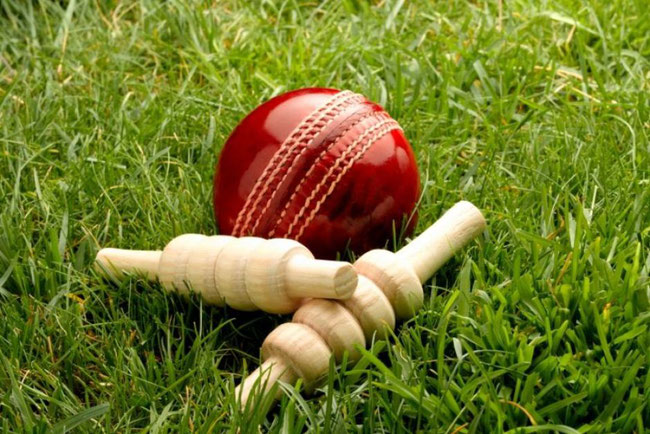 Dan Buckley played a superbly controlled innings to see Norden to victory over Great Harwood at Stag Park on Sunday.  From 95 deliveries faced he reaped 68 runs which included a straight six to round off the match.  Norden reached their target of 157 with five wickets down, that target having been boosted by Harwood's lower middle order following a dour opening.
On a greenish wicket Harwood found it hard to score runs.  Matthew Oddie was bowled middle stick by Hashum Malik, Matthew Bunn  was caught behind by Lee Crabtree, off Jake Sandham,  and with 20 overs  gone Harwood were on 30-2.
It might have been good to watch for the purists – a battle between bat and ball – but to many it was probably more fun trying to count the bubbles in a glass of lager.  Those starting to drop off were roused by a double success for the Stags.  With the total on 38 Philip Aspinall was caught behind to provide Dom Humphreys with the first of his three wickets, and Patrick Swanney steered a Humphreys delivery to Harvey Fitton in the slips.
Visiting professional Ashen Silva struggled to make 12 off 55 balls. He went for the 56th and saw Joe Humphreys collect to end his knock.  At 67 for five it promised to be an early finish, but Paul Houldsworth and Nazakat  Hussain obviously decided the best policy was to have a go.  Hussain smacked two sixes in his 26 before falling to a catch by Joe Humphreys, while Houldsworth hit three maximums in his unbeaten 54.  Two more wickets fell, but Norden never looked like bowling Harwood out for a maximum points return.
The reply saw 33 on the board before Harvey Fitton was judged leg before to Stuart Maher.
And there was unbridled joy in the Harwood camp one run later when Tolley edged Maher to Chris Oddie behind the stumps.  Buckley and Dom Humphreys then started to rebuild the innings steadily, but with 19 to his name Humphreys was given out.
The scorebook records he was given out caught behind. Only problem with that is that the keeper clearly spilled the catch. If it was a leg before decision it certainly looked high and down the leg.
Whatever the case Humphreys had to walk, and Jake Sandham followed him having been caught behind.  Greg Butterworth scored 20 as Norden reached 135 for five, and it was left for Nick Brierley to mainly spectate as Buckley knocked off the remaining runs from the other end.
Great Harwood
M Bunn c Crabtree b Sandham 12
M Oddie b Malik 13
A Silva c J Humphreys b D Humphreys 12
P Aspinall c Crabtree b D Humphreys 5
P Swanney c H Fitton b D Humphreys 0
P Houldsworth not out 54
N Hussain c J Humphreys b Butterworth 26
C Oddie c H Fitton b Butterworth 13
S  Ali Crabtree b Sandham 8
S Maher not out 2
Extras 11
Total (for 8 wkts) 156
Bowling: Sandham 15-3-57-2; Malik 13-9-11-1; D Humphreys 10-2-30-3; Butterworth 12-2-53-2.
Norden
J Tolley c C Oddie b Maher 14
H Fitton lbw Maher 12
D Buckley not out 68
D Humphreys c C Oddie b Maher 19
J Sandham c C Oddie b Houldsworth 7
G Butterworth c M Oddie b Silva 20
N Brierley not out 1
Extras 16
Total (for 5 wkts) 157
Bowling: Maher 15-3-51-3; Aspinall 9-1-29-0; Houldsworth 5-0-28-1; Silva 4.1-0-17-1; Newton 4-0-31-0