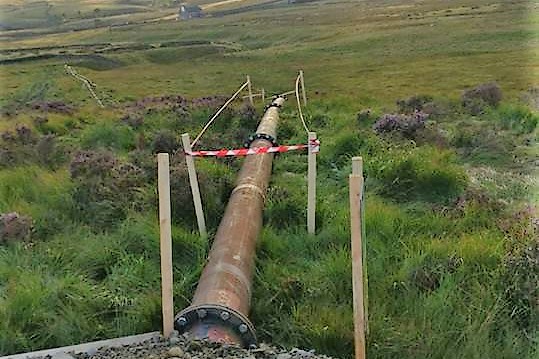 Local Councillors have allayed residents fears after work began to lay a large pipeline through moorland around Knowl Hill in Norden this week.  A number of residents had contacted local officials to raise concerns about the work which had appeared in the local beauty spot.
Norden Ward Councillor, Jim Gartside, was able to reassure residents that the work was being carried out by United Utilities who manage the moorland and was actually a water pipe that was being installed between Greenbooth Reservoir and Ashworth Reservoir.
Councillor Gartside said: "They are being careful with any disturbance and the environment people are watching what they do, and will advise what needs to be done when the work has been finished.  Although they do not need permission they have got the agreement of local farmers.  I am satisfied that it is being done as professionally as possible and that the Council have no need to interfere."
An officer from Rochdale Council confirmed that there are permitted development rights available to water and sewerage undertakers as detailed in part 13 of the General Permitted Development order 2015.