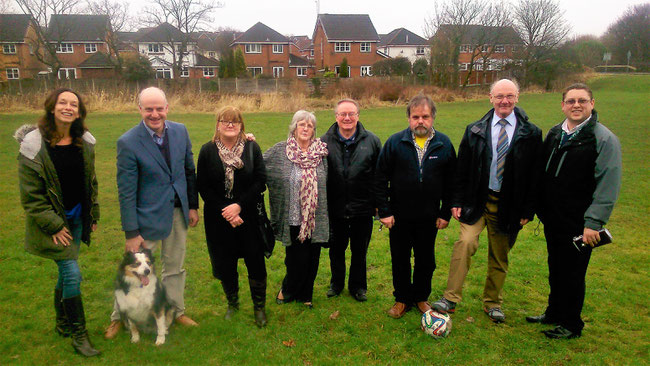 After three and a half years of fighting a judgement will today be made on the future of the green space in Caldershaw which has become known as Heritage Green.
The site first came into the public eye when members of the the Rochdale Township Committee controversially voted to sell the land for development.  The land, at the junction of Caldershaw Road and Cut Lane in Norden, was frequently used by local families as a recreational space and made up part of the borough's green corridor.  Yet a decision was made to sell the land as a potential development site for six houses.
At the time local Councillors called in the decision explaining that this was a valuable community asset, and that the land was known to have a number of problems that would make it unsuitable for development.  Pictures were shown of an excavator which sank on the site during previous works.
Following the halting of the sale local residents formed a friends group and the site became known as 'Heritage Green'. It was decided that the friends groups would seek a formal designation for the land as a village green as this would provide full and permanent protection for the land.
The road to today's decision has not been an easy one.  The friends group and local councillors have worked relentlessly for three and a half years to finally get the the point where a decision is ready to be made.  The process has was passed out for consultation with East Cheshire Council (an independent authority) before being returned for a decision at tonight's Rochdale Borough Cabinet meeting.
The recommendation in the cabinet report is to approve the site as a village green, maintained by the council, which will make it the first formal village green in Rochdale Borough.