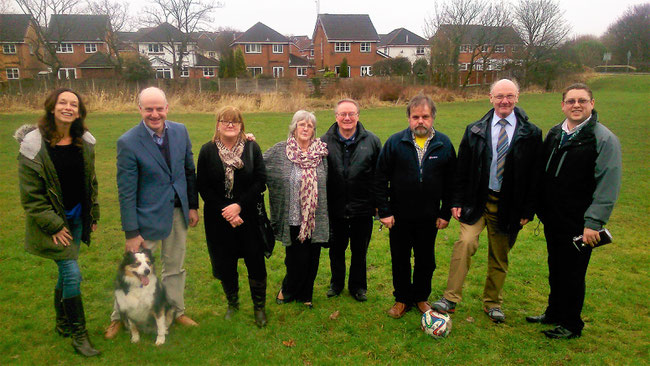 The Friends of Heritage Green are celebrating tonight following the end of a three and a half year battle, which has seen the site become the first official village green in Rochdale Borough.
It was over three years ago that the green space at the junction of Caldershaw Road and Cut Lane, which was used by hundreds of residents for a variety of recreational purposes, was designated for sale as development land, without public consultation, by Rochdale Council.
At the time local Councillors acted quickly to call in the decision and shortly after halting the sale helped to coordinate residents to set up the 'Friends of Heritage Green' group, which has worked tirelessly as the active force in bringing about tonight's successful conclusion.
The journey to Village Green status has been a long one and has seen the application pass from Rochdale Council, to East Cheshire Council as an independent body, before coming back to Rochdale for a final ruling.  The decision was put before cabinet and finally, in a last minute move, was finally approved at the meeting of the Full Council tonight. 
Speaking just before the vote was made Friends of Heritage Green group representative, Mark Hope said: "It's been a long tortuous journey but in the end Rochdale Council has listened to us and our arguments and, assuming the recommendation is ratified this evening, the people's voices will have been heard and the law properly considered.  It will be a triumph for democracy and justice."
Local Councillor Mike Holly said: "Tonight's decision was the right one, and I thank them for that.  The granting of village green status has been a complex legal journey, I would like to thank the officers of the Council for their efforts and pragmatism to come up with the right decision.  This will mean that valuable green recreation space, which is totally unsuitable for development, will now be permanently protected for use by local families."
Councillor Peter Winkler, who called in the original decision to sell the land, paid tribute to the friends group: "The friends group have done an amazing job and have presented an excellent case for this piece of land to become a formal village green.  Their efforts and unstinting commitment to achieve village green status have been truly herculean.  It has been our privilege as local Councillors to actively support them all the way."
Village Green status now means that Heritage Green has an official designation and is permanently protected from the threat of sale or development.