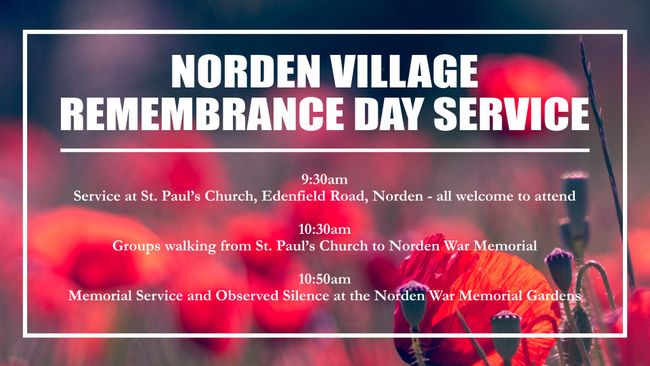 Residents in Norden and surrounding areas are being encouraged to join in with Remembrance Sunday celebrations this weekend which will mark the 100 year anniversary of the end of the first World War.
Norden holds a remembrance service every year but this years is planned to be an especially poignant service to remember the 98 men from the village who left to fight for our freedom but never returned.
Uniformed groups will walk from St. Paul's to the memorial gardens from 10:30am where a short service of remembrance will be led by the Rev. Stephen Nolan followed by a silence and the laying of wreaths.
A temporary road closure has been arranged for the bottom section of Woodhouse Lane for the duration of the service to allow people to gather safely and to ensure that the service has minimal disruption from passing traffic.
Local Councillor, Peter Winkler, coordinates the event said: "This is a significant year for remembrance, I am sure that the public will be very supportive and that we will see the usual large turnout to honour our fallen heroes.  The memorial gardens have undergone a lot of work this year and I am really pleased that they are looking at their best for Sunday's service."
Following the service members of the public are invited to go on to Rochdale town centre where family activities and celebrations will be held in the afternoon followed by the lighting of a beacon at Rochdale Town Hall at 7:00pm.