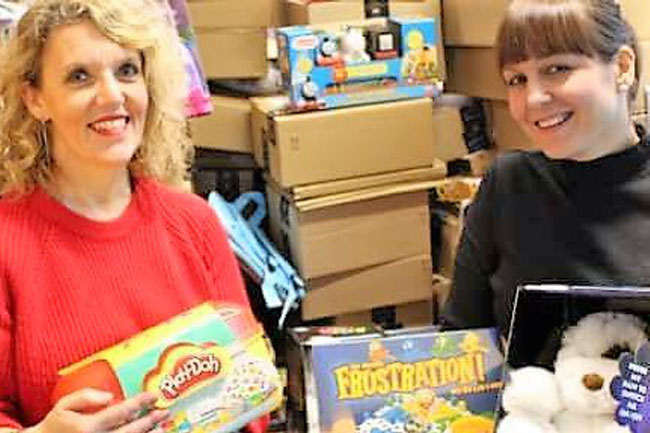 The annual Christmas Toy Appeal organised by Rochdale Council's staff-run 'Giving Back' charity will be collecting donations from today, Wednesday 14th November 2018.
Residents are being asked to buy one extra present – a new, unwrapped gift suitable for a child between 0-16 years-old and simply leave it at a local library by Friday 14th December 2018.
Rochdale Council staff, who distributed a record 2,300 toys last year, will then make sure they reach the borough's less fortunate children in time for Christmas Day.
Helen Walton, from the Giving Back charity, said: "We will ensure all gifts go to very worthwhile homes in the borough.  For many households Christmas is a time of real pressure and hardship, so our appeal aims to make sure that no child in the borough misses out. Thankfully, over the four years that we have been running this appeal our residents, staff and businesses have really got behind it, and once again we will have the support of Rochdale Herald's national Satire Aid appeal too."
The charity will ensure all gifts go to very worthwhile homes in our borough and that those that receive them get a lot of joy during what may otherwise have been a very meagre Christmas."
Toys can be dropped off from Wednesday, 14 November 2018 until Friday, 14 December 2018 at collection points at every library in the borough. Gifts for 0-16 year-olds are all welcome, but especially presents for teenagers that were low in number last year.
Residents in Norden can drop off gifts at Norden Library on Shawfield Land, Next to Norden Community School. Click here to check the opening times.