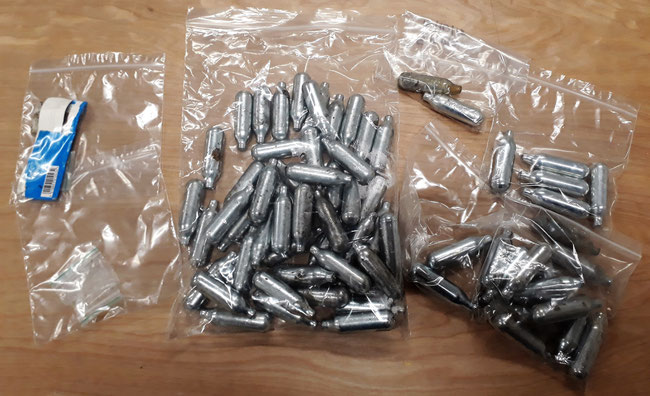 There has been a lot of discussion in the mainstream press recently about the use of Nitrous Oxide, more commonly known as laughing gas, as a recreational drug.  The practice, which involves inhaling the gas, hit the headlines after reports of the deaths of young people who were using the gas as a so-called 'legal high'.
Councillor Peter Winkler, from Norden, is calling on the Government, Council, Police and other agencies to join forces to tackle what he describes as a growing problem in his ward and right across Rochdale.
Nitrous Oxide is commonly used for short term pain relief in dentistry or childbirth, or by the catering trade as a propellant for cream whippers (supplied in small metal canisters known as creamers).
However, while the gas has several safe and practical applications the side effects of its use as a recreational drug can include impairment of mental performance, dexterity, general disorientation and dizziness.  There is also a risk of oxygen starvation if the gas is consumed in an enclosed space, or from a plastic bag or balloon, which can lead to unconsciousness or death.
The widespread use of this gas as a recreational drug has increased demand so much that those in search of the 'legal high' are now finding that some shops are stocking the small canisters as an 'under the counter' product.  One quick search online revealed a seller on a national buy & sell site that was offering 24/7 delivery of the canisters with discounts for bulk orders.
Whilst it is not illegal to sell the canisters for practical purposes, in a statement, the Home Office said: "Nitrous oxide is covered by the Psychoactive Substances Act and is illegal to supply for its psychoactive effect."
Speaking about the issue in his ward of Norden and across Rochdale Borough Councillor Peter Winkler said: "The problem in our area is evident with these small metal canisters seen discarded in parks, along streets and most concerning in car parks.  These empty canisters serve as clear evidence of the extent to which people in our borough are using this gas as a recreation drug.  This is a major problem across the borough and we need to be disrupting the supply chain and dealing with the anti-social impact."
"For this reason I have written to the Home Secretary to ask that his office continues to do everything in their power to find a workable means of regulation, so that the use of this gas and other similar 'legal highs' can be formally regulated to ensure that they are only supplied by suitable outlets for appropriate applications.
I am speaking to Council Officers about what opportunities we have to work alongside the Police and other agencies to tackle this growing problem and its impact on our borough."
"I have also spoken directly to Greater Manchester Police to question what part they can play and most importantly what they are doing to ensure that people who are clearly discarding their used canisters in car parks are not then driving under the influences of the gas and putting the lives of innocent people at risk on our roads."