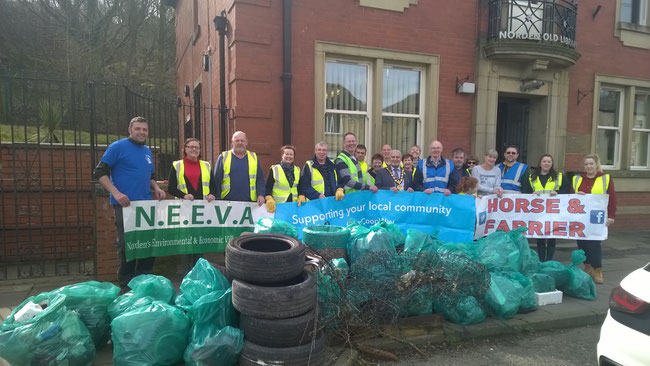 Green volunteers from around Norden have united to take part in the Great British Spring Clean, a national event promoted by the Keep Britain Tidy charity.
Volunteers for various groups in Norden, including The Friends of Heritage Green, The Friends of Jubilee Park and The Birtle Trust, took part in the clean up day collecting dozens of bags of rubbish from streets, ginnels, footpaths and parks.
The day was supported by the Rochdale Council Environmental Management team who provided litter picking equipment, bags, gloves and high-vis vests for volunteers and ensured that all the rubbish that was collected was picked up promptly and disposed of responsibly.
Volunteers in Norden were thanked with a bacon sandwich and hot drinks at the Norden Old Library following the event which was supported by the co-op.
Special thanks came by way of a visit from the Mayor of Rochdale who personally thanked everyone for their efforts and said that it was so important that people played an active part in keeping their community clean and green.
Norden Ward Councillor and Shadow Cabinet Member for Environment Peter Winkler said: "There has been an incredible effort right across Norden today.  It has been a pleasure to be out with so many like-minded people and Norden looks amazing for their efforts."