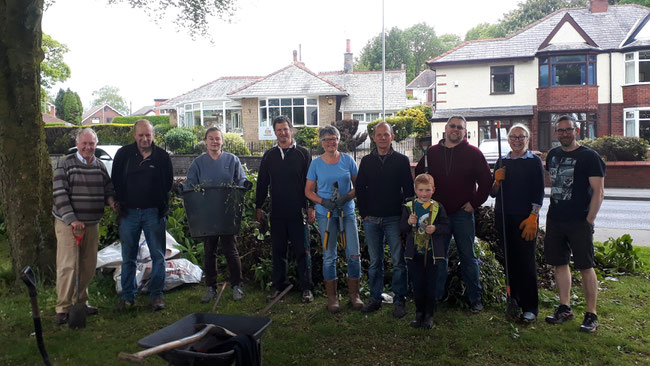 The Friends of Taylor Park in Norden have held a clean-up day with the help of many local supporter and volunteers.
The park, which is located on Bagslate Moor Road and Taylor Avenue is one of Norden's oldest parks and was once the go-to place for picnic lunches and even wedding photographs. The dedicated friends group led by local resident Clive Entwistle, are now trying to restore the park to it's former glory with year-round maintenance and a lot of TLC.
16 Local residents and community volunteers turned out to support the two-hour event, armed with an array of rakes, forks and hedge cutters.  Clive said: "This is the best turnout we have had yet at one of our events and it has really shown what an impact can be made when we all work together, the park is looking amazing.  We really have achieved a lot."
Passers by will notice the large pile of cuttings that have been left at the front of the park and will now be collected by Environmental Management Officers from Rochdale Council.
Recently the park has also benefited from investment by Local Councillors and ward fund contributions including upgrades to the paths and the installation of bins and benches, all of which are helping to ensure that the park is a great place for local people and families to visit and enjoy the open grassed area.
As lunch time arrived weary workers were treated to tea and buttered crumpets to thank them for all their hard work.  Clive added: "Today has been an incredible effort but there is still a lot to do - nature never stops.  We are looking forward to announcing future dates when people can come along again and help us to spruce up the park as it is a real year-round job."