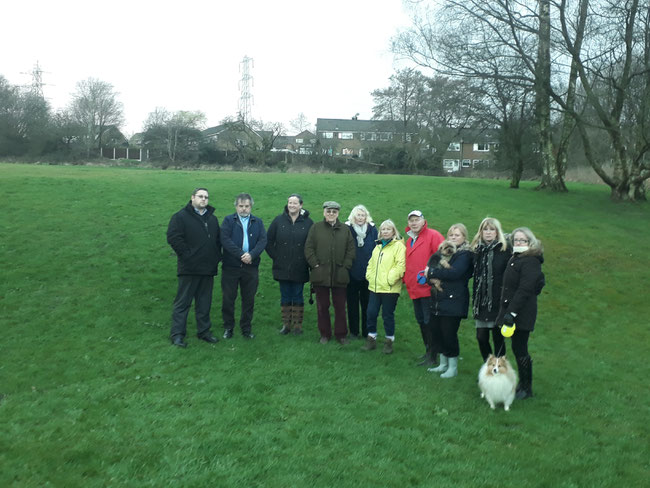 Members of the community have united following proposals which were put forward by Council Officers at a recent Township meeting, to develop up to 150 allotments on the site of the Norden Recreational Grounds at the top of Hutchinson Road.
At the time that the proposal went to committee they were aggressively opposed by local Councillors who argued that there was a long list of reasons why the sit was totally unsuitable including:
The site is a well used recreational ground for local people.
Access to the site is unsuitable for the increased volume of traffic that the change would attract.
The land is believed to have a covenant which would prevent it's change of use.
a meeting or concerned resident was called at St. Paul's Church Hall by Area Forum Chairman, Nigel Morrell and by the time the meeting began there was standing room only.  Councillor Winkler outlined the proposal and explained what opposition had already been made and along with Councillors Gartside and Holly answered questions about the plan and how to move forward.  Councillors were keen to stress that whilst they felt this was not a suitable site, the idea to create more allotments in a better location was one they approved of.
Mr. Morrell asked for a vote to oppose the proposals and this was unanimously in favour of opposing the allotments, with just one abstention.
Alternative sites were discussed with several suggestion from the floor and these will now be taken back to Rochdale Council by Ward Councillors as part of a further discussion.
Mr. Morrell also moved the idea to set up a friends support group and it was raised that a village green application may be an appropriate way forward to protecting the site in the future.  Mr. Morrell added that members of the successful Friends of Heritage Green group, who had recently completed a similar application had already been approached and agreed to offer guidance and support in the process.
Members of the public in attendance were invited to provide their name and email address in order that they can be kept informed of future development and it is hoped that a friends / supporters group can hold a first meeting in the near future.