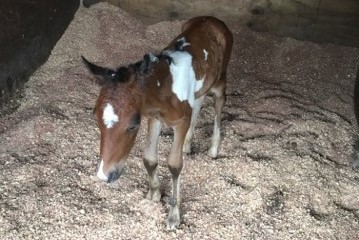 Norden residents are being asked for their help to find a foal which has been stolen in Pilsworth.  People in Norden are being asked to be on the lookout for the animal after rumours of sightings in the area.
The foal has been reported as stolen to the police and this crime is being taken very seriously as she is only 6/7 weeks and will not survive with out her mother.
The foal was taken out of her field from her mother and the owners have found clear tyre tracks over the field to to the gate leading them to believe that she was taken and has not just escaped from the field
Owner, Charlottle Turner gave this plea:  "If you have her please just bring her back to where you got her from, there will be no questions asked we just need her home.  Please just return her, we will not rest until she if found and will keep sharing this until she is home, so please do the right thing and just go and put her back.  Any information big or small is much appreciated and is 100% confidential."
A facebook campaign to find the foal has been started and has already had over 24,000 shares.  
Please contact charlotte with any information on facebook at: https://www.facebook.com/charlotte.cannon.509