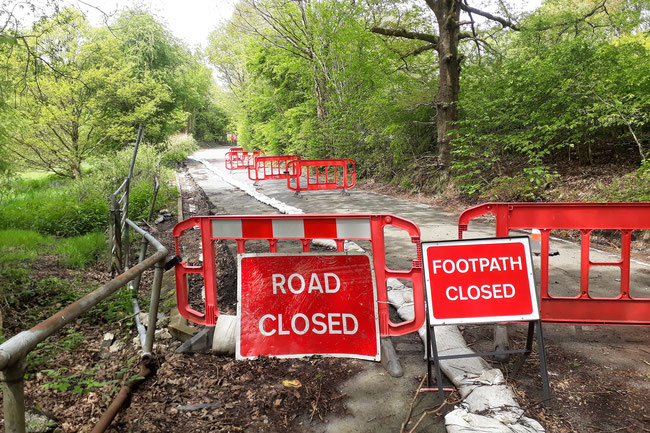 Residents and commuters alike will be delighted to hear that work to rebuild a collapsed section of Ashworth Road in Norden is expected to be completed by the end of next week and that the road will be reopened to traffic.
Rochdale Council Highways said: "Work is dependant on the weather, we are just waiting until this weekend's cold snap has passed and then we hope to be able to complete the final surface layer and reopen the road to traffic."
The section of road, between Bury Road and School Lane was closed in May this year, following the collapse of land which undermined the road making it unsafe for use.
https://www.nordenvillage.co.uk/2018/05/10/work-starts-to-rebuild-collapsed-ashworth-road/
Despite the severity of the collapse local Councillors and Council Officers were able to agree on a scheme to ensure that the road could be rebuilt and reopened to day-to-day traffic.  The project has involved hundreds of man hours, hundreds of thousands of pounds of funding and has taken around eight months to complete.
Ward Councillor, Peter Winkler said: "Although this is a rural road it is a busy route for local residents, businesses and commuters.  The collapse of the road posed a serious safety issue and unfortunately the closure was unavoidable.  This has been a long, complex and very expensive project but I am pleased that funding was able to be made available and that these extensive works to reopen the road have been undertaken.  I would like to thank officers and contractors for their hard work and commitment in getting this route rebuilt."
During the closure increased congestion on the alternative route (Norden Road) has been significant. 
Officers advise that further work to gullies and culverts will still need be undertaken in 2019 but this will be for a short period in the spring or summer, when the winter weather has passed.
Works on another section of Ashworth Road, close to Black Dads Farm, will commence in January 2019, but being further towards Edenfield Road than the current closure, this will not restrict access along School Lane and down to Bury and Rochdale Road.