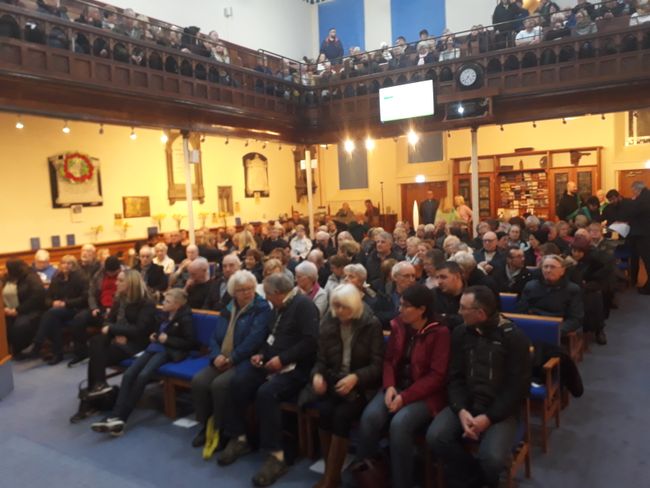 Hundreds of residents from Norden and Bamford attended a public meeting at Bamford Chapel this week, called to discuss plans to build 450 luxury houses on greenbelt land off Norden Road.
The proposals in the New Greater Manchester Spatial Framwork (2nd Draft) were opposed by everyone at the meeting with a range of objections including increases traffic, congestion and air pollution, insufficient capacity within local facilities, schools and doctors surgeries, irreversible damage to the greenbelt and more.  
The meeting was arranged by local campaign group founded by Bamford resident Anne Shorrock, 'Save Bamford Greenbelt' and saw Bamford Chapel packed to capacity with concerned residents.
The group Chairman, Sean Clowes was joined by Bamford Ward Councillor, Patricia Sullivan, who spoke about the plans that had been set out in the GMSF and set out the plans for how they would be objecting during the consultation period, urging others to do the same.
Council Officers and members of the Cabinet were invited to attend the meeting but all declined.
Landowner David Mills, of Moore Edge Farm, spoke about how their family farm had been included in the plans, despite them have never been consulted and not wanting to sell their land.  He said: "We have not asked for it. We are not promoting it in any way, we don't want it. We feel the need to clarify that, because we know there are rumours going about."
Speaking from the audience, Norden Councillor and Shadow Portfolio Holder for the Environment, Peter Winkler said: "The original plans were drawn up with the consultation of just one interested party - the developers.  This plan has been created by The Manchester Mayor and the leaders of the ten Greater Manchester Authorities.  These proposals have not been approved by the full Rochdale Council and I will not be supporting them."
Norden Area Forum Chairman, Nigel Morrell told the room that the matter would be placed on the agenda for the next Norden Forum meeting and he would ensure that there was ample time for discussion of this matter which offered as many concerns for Norden residents as it did for those in Bamford.
The mood of the room was summed up when the GMSF was described as "The greatest act of civic vandalism that Greater Manchester will ever be subjected to."
You can respond to the GMSF consultation online at: https://tinyurl.com/gmconsult.  You can also comment by email to planningandhousing@greatermanchester-ca.gov.uk, or by writing to: Planning Team Consultation, GMCA, Churchgate House, 56 Oxford Street, Manchester, M1 6EU.