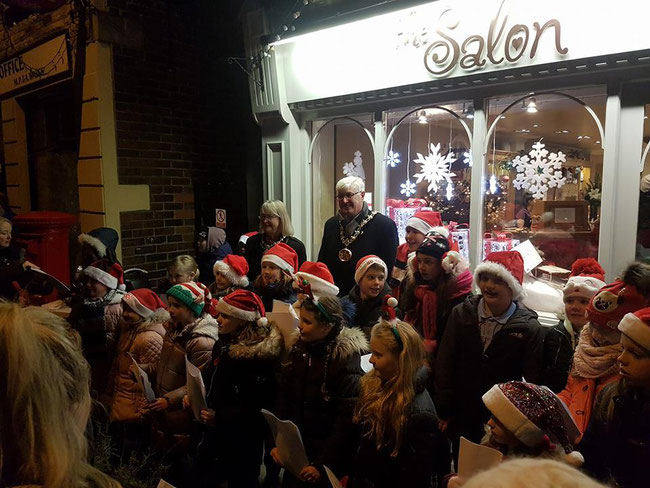 Hundreds of local families turned out in Norden last night to watch as celebrity chef, Andrew Nutter helped Santa to turn on the Christmas lights in the village.
Speaking before the event Andrew said: "I have done events all over the world, Dubai, New York, Europe, but this is the big one tonight, the local gig... Turning on the Norden Christmas lights!"
Local people and visitors were treated to carols by children form the Whittaker Moss Primary School choir, music from the Salvation Army brass band and a dance display by local business FabDance.  Although it was a cold night the rain stayed away and everyone was kept warm with plenty of free mulled wine, hot spiced cider and mince pies supplied by the team at Streetwise Magazine and Norden's Ward Councillors.
Local food businesses set up street stalls with Wildblood's Butchers offering hot dogs and Catherine's Cafe selling festive treats.  Staff from Craven & Murray Opticians were also offering free mince pies to the public.
Santa arrived in the village just before 7:00pm with his elves in his sleigh and was joined by Andrew and the Mayor and Mayoress of Rochdale to flick the switch and turn on the lights. He then went to his grotto to meet local children and check off their names on his 'nice' list.
Speaking after the event NEEVA Chairman, Paul Ellison said: "What a brilliant night it has been, everyone seems to have enjoyed themselves, it has been a really good community event. Thanks to everyone who has helped to organise the event including all the NEEVA members, local businesses, Whittaker Moss Choir, Andrew Nutter, the Police cadets, the Rotary Club, the Mayor and Mayoress of Rochdale and our Local Councillors."
After the lights were lit onlookers were dazzled by a fantastic fireworks display and were invited to visit the festive crafts market at Norden Bowling Club.