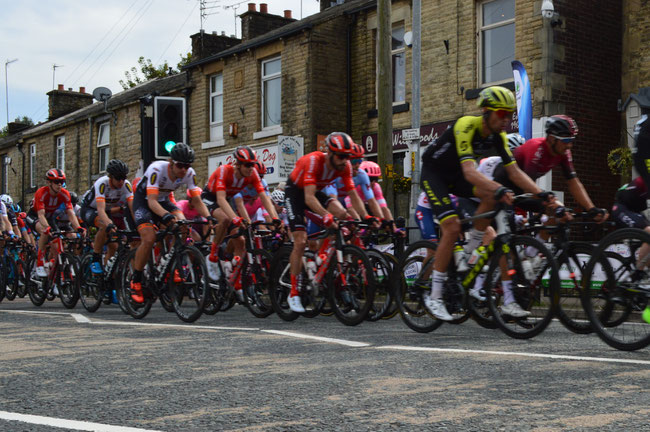 Thousands of people took to the streets right across Norden on Saturday (14th September 2019) as the UK's most prestigious cycle race, The Tour of Britain made it's way along Edenfield Road, right through the centre of the village.
Months of preparation have gone into the event which lasted just minutes as the pro racers charged through the village at top speed on their way to the uphill climb towards Edenfield.
First came the road closure team with police, sirens and flashing lights to clear the way.  Next, the tour cars announced the leaders and just moments later the crowds got the first glimpse of the lead trio.  Then, fast on their heels came the race pack amidst applause and cheers from excited onlookers.
As the peloton and TV crews came to town Norden was set to impress, the village was dressed from top-to-toe with bunting, flags and banners, thanks to sponsors VeloChampion, PNW Media and Skoda. 
Rochdale Council also provided cycle themed markers along the route put up by volunteers from Rochdale in Bloom.  Many local retailers had gone all-out for the event, with flags and window displays all themed to celebrate the tour.
Local shops, cafes and pubs rolled out the red carpets with some proper northern hospitality and special offerings of food and drink to keep the spectators fed and watered.  Shops and cafes put out tables and chairs, and pub beer gardens were packed, with standing room only as everyone looked for the best seats to watch the race.  Mens and ladies fashion retailer, Hope had even provided a spectator viewing area outside their shop with seating and free drinks for customers.
The Norden Village Trust organised flag making events at Norden Library, local Councillors gave out free balloons, Rochdale Council provided free flags for spectators to wave and dancers from FabDance even put on music and demonstration to entertain the crowds.
Local Councillor Peter Winkler, who has been helping coordinate events and activities across the village said: "This has been a great event and brilliant opportunity for the village.  We have planned lots of activities on the run up to today people have got involved from making flags to decorating their bit of Norden.  Despite road closures and parking restrictions today, we have worked with businesses in advance to make sure that everything was organised well, and it has paid off with a great event that has passed without incident.  Norden has had it's moment of fame on national television and we really can hold our heads high.  Speaking to shopkeepers today they have had an exceptional day.  Spectators too have told me how good the event has been and what a positive boost it has been for the village and community."
Beyond the centre of the village people took up positions at every street corner, on traffic islands, around the bus terminus and lined the hills to Owd Betts.  Some climbed walls to get the best vantage points whilst others crowded the streets with phones and cameras hoping to get a picture of the spectacle
We went live on facebook to broadcast and record the moment when the Tour of Britain came to Norden Village, with viewers from as far away as Canada logging on to watch scenes from the stage.
One spectator said: "Isn't it wonderful, the sun is out and it is so nice to see everyone out and watching, it's just like carnival day!"
Another commented: "It is really exciting, you don't often get a chance to see something as big as this on your doorstep, I know it will be over in seconds but there is a real buzz in the atmosphere."