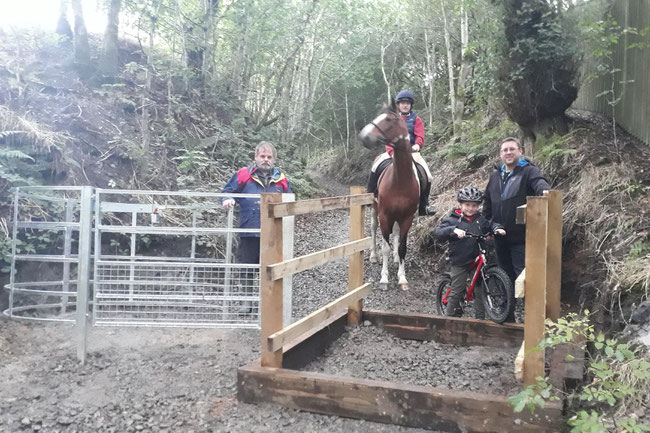 Plans to prevent off-road bikers destroying local woodland came a step closer this week with the installation of new gates at woodland access points around Paperhouse Bridge in Norden and off School Lane in Ashworth.
The installations are part of a medium-term project which was initiated through the Norden Area Forum and is progressively reducing ease of access for off-road vehicles to local woodland trails and bridleways.  The project came forward as a result of the huge numbers of trials bikes and quads which have been being ridden through the woodland, causing danger to responsible people who hope to enjoy the area for a range of recreational activities such as walking, running, cycling, horse riding and dog walking.
Norden Area Forum Chairman, Nigel Morrell said: "Aside from the inherent danger caused when a motor vehicle is ridden at speed through these restricted areas, off-road vehicles have been responsible for the erosion and outright destruction of many footpaths and embankments.  The new installations are a small part of an ongoing project to block off these areas to those people who's off-road activities ruin these spaces, leaving them unfit for use by anyone else else."
"The project has been a great demonstration of collaborative working between the Norden Area Forum, Ward Councillors, Rochdale Council's Rights of Way Officers and responsible user groups like Rochdale and Bury Bridleways Association.  Hopefully these and other measures will persuade the off-roaders to take their vehicles to more suitable areas."
The latest gates feature a tiger trap which allows access for people, prams and push bikes and an open section which can be used by horses.  However the while responsible uses can gain access, heavy, motor vehicles will find the gates and difficult if not impossible to navigate due the narrow gates and raised sleeper beds.